HELP BRING ATTENTION TO SENIOR DOGS!!  -- Vote for Carie Broecker
Carie Broecker, founder and director of Peace of Mind Dog Rescue in Pacific Grove, CA, has been nominated as one of the ten CNN Heroes of 2022!!!  You can help bring more attention to the cause of senior dogs -- including the importance of planning for the future, should your senior dog need to find a new home -- by voting for Carie here.
November is "Adopt a Senior Pet Month"
According to
petmd.com
, "Senior pets, or those defined around the ages of 5 to 7 years and older, unfortunately tend to make up a good population of animal shelters. They are often overlooked by potential adopters because it's presumed that, given their age, older pets must have a significant health or behavioral problem. This is an unfortunate stigma, as senior pets have so much good they can offer you and your family, and making them part of your forever home will provide them with a second chance at receiving love in return!"  To find a senior dog near you, please see
the adoption page
.
Rabies Challenge Fund Results Are In
Is it really  necessary to re-vaccinate for rabies every three years, as is required by many states?  Veterinarians and dog guardians began to question these state laws because they observed the unwanted side-effects, including various cancers that appeared to be directly correlated to adminstration of the vaccinations.
When it comes to senior dogs, in many cases they have been re-vaccinated many times over the years. Veterinarians and dog guardians began to ask, was it really necessary to revaccinate?  Or could it be possible that the dogs were still protected, even after more than three years?  And could that level of protection be determined by a test known as a "titer"? The Rabies Challenge Fund, organized and funded by veterinarians and dog lovers, was formed to investigate.
Results of the research on rabies vaccinations are finally in.  They are reported in Dogs Naturally magazine.
In sum, the results are:
Rabies vaccine may induce a duration of immunity well beyond 3 years in dogs
Antibody is the most important protective factor against rabies virus
Anamnestic responses to virulent challenge can be seen even without protective titers in previously vaccinated dogs
Protection persists without annual or triennial re-vaccination
Antibody testing of individual pets can be an excellent indicator of protection or lack thereof … although further studies are needed to determine a protective antibody threshold for vaccinated dogs.
The magazine reports: "Clearly the results were not what we'd all hoped. The rabies vaccination laws won't be changing anytime soon."
You can get a medical exemption from state-required revaccination laws if your dog's health could be compromised by administering the vaccination. Information from the American Veterinary Medical Association here.
Since laws change, you should check with your veterinarian about the most current regulations in your state.
100-year-old woman adopts 11-year-old dog in perfect senior match
"It was quiet and sad, and then Gucci brought joy into the house."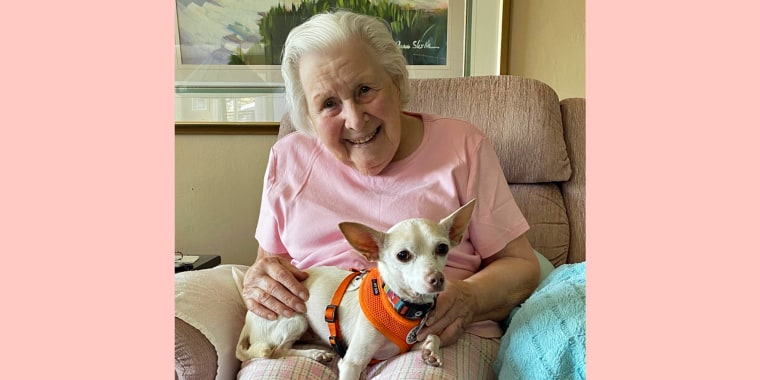 "He saw me sitting on my chair, jumped up on me and sat on my lap," Johanna Carrington said. "He made himself very, very comfortable. He was just our baby right away."Courtesy Debbie Carrington