Why the Senior Dogs Project Loves WoofTrax

WoofTrax is an app for your phone that rolls charity, good human health and good dog health into one.  It's easily installed on your phone.  When you enter information into your profile (e.g., your name, dog's name, etc.), you'll have the opportunity to designate an animal charity of your choice – such as your local shelter or rescue group.  Each time you walk your dog, you begin by logging into the app.  You'll see your route on the map.  When you've finished your walk, the app registers a donation for the organization you've named and also keeps a record of how far you've walked.  It's amazing how quickly the miles (and the donations and the health benefits) add up!  At the Senior Dogs Project, in less than six months, we logged over six hundred miles!!  We often flash our mileage history among friends and other dog walkers to impress them (and to suggest they also participate in the WoofTrax program to support their favorite animal charity).    Here's the link with info:  https://www.wooftrax.com/
Comfort during Times of Stress

January 29, 2023 -- Tyre Nichols death at the hands of a specialized "Scorpion" unit of the Memphis, TN, police department has brought deep sadness to many.  How can we deal with this and other events in our country and the world that cause us to feel not only sad, but anxious, afraid, or threatened?  Many of us turn to our dogs -- and for good reason.  "Therapy dogs" have been shown in scientific studies to help.
"To dog lovers, the use of therapy dogs is a no brainer. Studies have shown that simply petting a furry friend can raise levels of serotonin, dopamine and oxytocin, which helps reduce feelings of stress, anxiety and depression – emotions many people experience when a loved one dies. " -- from an article in Therapy Dogs Bring Comfort in Times of Mourning,:
Your dog might not be designated officially as a "therapy dog," but we guarantee that there's lots of comfort ready to be accessed, right there at your side.
November 2022 was "Adopt a Senior Pet Month" -- but you can adopt a senior dog anytime of the year!
According to
petmd.com
, "Senior pets, or those defined around the ages of 5 to 7 years and older, unfortunately tend to make up a good population of animal shelters. They are often overlooked by potential adopters because it's presumed that, given their age, older pets must have a significant health or behavioral problem. This is an unfortunate stigma, as senior pets have so much good they can offer you and your family, and making them part of your forever home will provide them with a second chance at receiving love in return!"  To find a senior dog near you, please see
the adoption page
.
Rabies Challenge Fund Results Are In
Is it really  necessary to re-vaccinate for rabies every three years, as is required by many states?  Veterinarians and dog guardians began to question these state laws because they observed the unwanted side-effects, including various cancers that appeared to be directly correlated to adminstration of the vaccinations.
When it comes to senior dogs, in many cases they have been re-vaccinated many times over the years. Veterinarians and dog guardians began to ask, was it really necessary to revaccinate?  Or could it be possible that the dogs were still protected, even after more than three years?  And could that level of protection be determined by a test known as a "titer"? The Rabies Challenge Fund, organized and funded by veterinarians and dog lovers, was formed to investigate.
Results of the research on rabies vaccinations are finally in.  They are reported in Dogs Naturally magazine.
In sum, the results are:
Rabies vaccine may induce a duration of immunity well beyond 3 years in dogs
Antibody is the most important protective factor against rabies virus
Anamnestic responses to virulent challenge can be seen even without protective titers in previously vaccinated dogs
Protection persists without annual or triennial re-vaccination
Antibody testing of individual pets can be an excellent indicator of protection or lack thereof … although further studies are needed to determine a protective antibody threshold for vaccinated dogs.
The magazine reports: "Clearly the results were not what we'd all hoped. The rabies vaccination laws won't be changing anytime soon."
You can get a medical exemption from state-required revaccination laws if your dog's health could be compromised by administering the vaccination. Information from the American Veterinary Medical Association here.
Since laws change, you should check with your veterinarian about the most current regulations in your state.
100-year-old woman adopts 11-year-old dog in perfect senior match
"It was quiet and sad, and then Gucci brought joy into the house."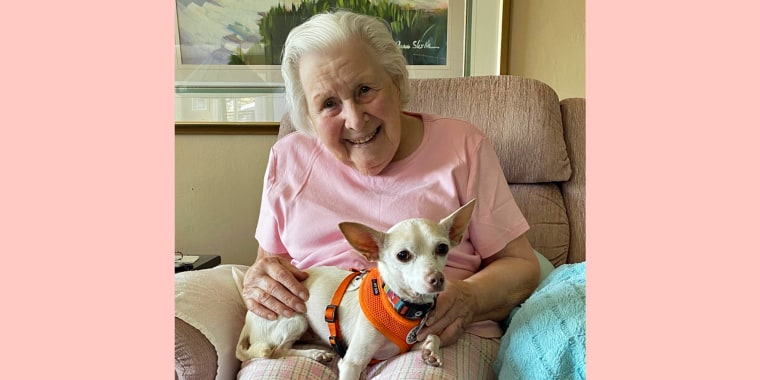 "He saw me sitting on my chair, jumped up on me and sat on my lap," Johanna Carrington said. "He made himself very, very comfortable. He was just our baby right away."Courtesy Debbie Carrington